Flame Of The Forest
You are bored with regular activity, you want some entertainment in your life. Then you have to go to some adventures places. If you search for some adventure place, your search ends on "Flame of the Forest".
The "Flame Of The Forest" is an adventures resort near Indore. It is about 21 km away from "Knoop Tank". This resort offers a number of adventure sports activities and jungle safaris.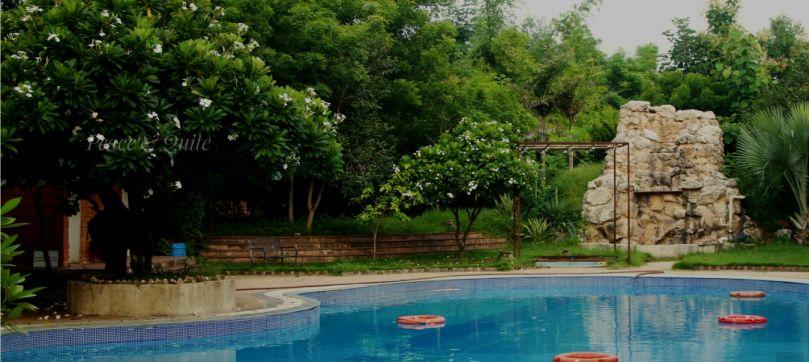 About "Flame Of The Forest"
The "Flame Of The Forest" is full of adventures resort. This resort is just 21 Km away from the Knoop Tank. This resort offers a number of adventure sports activities and jungle safaris. This resort has a variety of outdoor activities, sports courses, water sports and many more.
This resort is very good for the friends and family picnic both. Here you get complete relaxation and wonderful recuperation in natures own workshop.
This is one of the pioneers of eco-tourism in Madhya Pradesh. This Resort is designed to provide a unique kind of experience in a beautiful place far from the hustle and bustle of modern cities.
Here you get a chance to do something extraordinary. Come here to relax in the scenic and tranquil surroundings or engage in a plethora of eco-friendly activities and land and water-based sports.
Best Of "Flame Of Forest"
This resort is a very beautiful and eco-friendly resort where you see a natural beauty and you get to fall in love with nature.
This resort have a number of adventures sports activities, sports courses, water sports and many more.
This resort offers guided tours which offer valuable insights into the forest of Madhya Pradesh. A remarkable wealth of bird species and exotic jungle safaris are a great source of attraction to every visitor.
If you have a wish to explore the flora and fauna so this place is best for that. This resort covers the forest area. Here you can also jungle safaris activities.
This resort also has a game room where you can perform indoor activities like Table Tennies, Pool and other.
This resort also offers to stay here and explore the whole resort. And this resort provides 24*7 front desk and travel assistance. This resort also has an NGO
Activities Done at "Flame Of Forest"
There are many activities done at Flame Of Forest Resort such as Trekking, Indoor games, outdoor games, water sports and others.
Following are the major activities you perform at the Resort
1. Pool
2. Table Tennies
3. Fishing
4. Obstacle Course
5. Trekking
6. Hiking
7. Rappelling & Rock Climbing
8. Flying Fox
9. River Crossing
10. Jungle Safaris
11. Camping
12. Camp Fire
Accommodation At Resort
Flame Of Forest Resort offers to stay here also. Here the guest can avail the luxury of 12 Air-cooled and 17 Air-conditioned Swiss cottages with attached bathrooms. These cottages have a beautiful lake view.
The camp further boasts a fine-dining kitchen, unique dining area, lakeside campfire area, 80 guests in the conference hall and an indoor game room.
Address Of Flame Of Forest
This resort is outside of the city. Address- Village Punjapura, Bagli flame of the forest 2 Km from, Punjapura, Madhya Pradesh 455227, Dewas, 455227
Best Time to Visit Flame Of Forest
This resort opens all the days of the week. Means this resort opens 24*7. And at any time you can visit this place. And the best time to visit this place is in the rainy season. You can enjoy flora and fauna in rainy season most.
Important Points to know
This resort is completely you have to pay in advance and collect the payment receipt. And show this payment receipt at the gate to take entry. Without this receipt, the entry will be prohibited.
You must have to carry a photo identity card, for each and every person.
How Reach This Resort
This resort is away from the city so you have to reach this place via your private vehicles only. And also have a good arrangement for vehicle parking.