Indore city is famous for its climate conditions. So Indories (residents of Indore) enjoy all type of weather around the year. Indore climate is nice because of its geographical location.
With nice climate as well as Indore have so many natural picnic spots.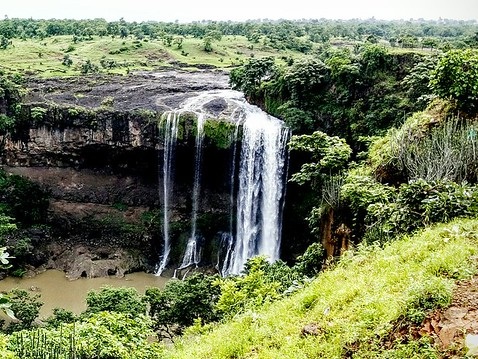 Tincha Waterfall Indore [Image by Jayesh Tiwari via Flickr lic. CC 2.0 ]
Tincha Waterfall Indore, A Place for Nature Lovers
Tincha waterfall is one of natural picnic place or spot near Indore city. These water fall is near to Tincha village so these are known as Tincha waterfall.
After reach to the fall you will enjoy the beauty of nature. Scene of water falling from hill will make you energize and excited.
For one day picnic this place is very nice.
Warning:We will suggest that, if you can carry food supply and drinking water with you please carry. Because good quality food is not available near the water fall.
Special About Tincha Waterfall/ तिनछा झरना
Special thing about Tincha waterfall is, it is very near to Indore city approx 25Kms. This very less distance from Indore city makes it more attractive place in between tourists and weekenders.
Tincha waterfall is not as much crowdy as other water falls which are near to Indore as Pataal Paani.
Whole area is surrounded by lush greenery. The view of falling of milky white water falling from a height of about 300 feet will give you a very pleasant experience to your inner soul. The Surrounding Environment of Water Fall is Very Peaceful.
Beware of the monkeys near the waterfall.
Tincha Water Fall Entry Fees or Ticket Price
There is no entry fees to enjoy the water fall as it is open and natural place. You can enjoy a whole day picnic, trekking, photography, river bath and outing free of cost at तिनछा झरना.
Activity Available at the Tincha Waterfall/ तिनछा झरना
Tourists can do camping and trekking here. They can enjoy the bath in the river. Photography and Selfie spots.
This is one of best place for outing nearby Indore, and enjoy picnic games and food.
Tincha Waterfall Distance From Indore, तिनछा झरना
Tincha water fall is situated in Ujjain District. Tincha water fall is approx 25 Kms from Indore Railway station. You can reach there by 2 or 4 wheeler easily.
Tincha Waterfall झरना Indore Location GPS Point
Tincha fall is situated towards Khandwa road near Simrol village and at the Tincha village, Berchha.
The GPS point is 22.575733958171686, 75.97943310000005.
How to Reach Tincha Waterfall or Directions for पिकनिक स्पॉट इंदौर
From Indore you will move on to Khandwa road first and will reach to Simrol village.
On reaching the village Simrol, right beside the road just 15 km away, take a left towards the Simrol-Udaingar road. 10 kms on this road will take you to the beautiful Tincha waterfall. Hiring a taxi or cab is quite efficient for a day to this place.
Tincha वाटर फॉल का Video
Tincha Fall Indore Images Or Pics
As you will go on near to waterfall your excitement would increase continuously because of nature beauty. It is nice place for Photograpy lovers also.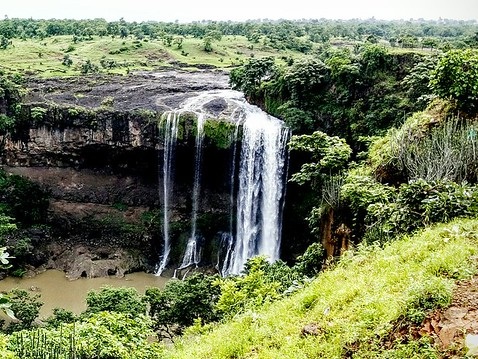 Best Time to Visit Tincha Waterfall पिकनिक स्पॉट इंदौर
Beauty of fall is depend on situation of water. So rainy season is the best time period to visit this place. The period of rainy season is July to September. In this period because of rain whole area become very greenish.
Nearby Attractions
Choral Dam, Pataal Pani and Chidiya Bhadak are near by attraction to Tincha Waterfall. But in one day you can visit only Tincha water fall. So plan atleast for oneday to visit this place.
Preperation and Plan Before Travel to the पिकनिक स्पॉट इंदौर
First check you vechicle condition in all manner. Please carry with you some edible things.
Please be very careful at the time of bathing inside river. Becfause the water level of river can be increase any time. Many accidents occurred every years.
We request you guys to keep the place clean and clear for upcoming visitors also. So don't put bottles, cans, cigarette butts, empty chips, biscuits packets and other garbages. This is very clean waterfall of Indore and please keep it clean, before leaving from the place.