Rajwada Palace and Market
Rajwada is a historical palace in the city of Indore. It was built about two centuries ago by the Holkars of the Maratha Empire. This seven-storey structure is situated near the Chhatris and is today an excellent example of royal grandeur and architectural prowess.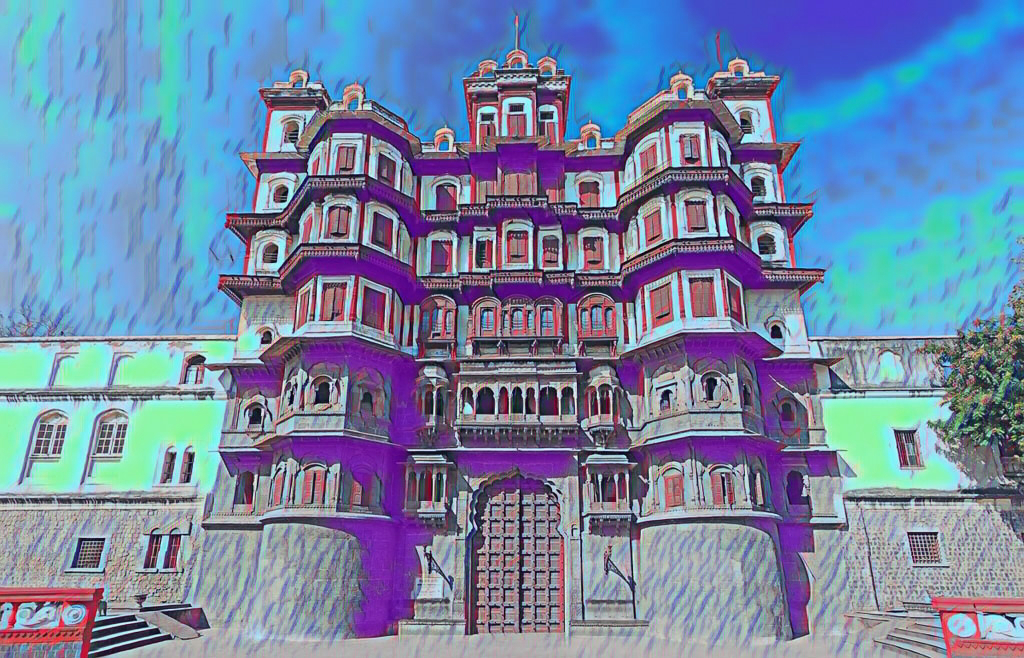 Rajwada Mahal is one of the major attractions of Indore tourism. Rajwada is the historical haveli of the Holkar dynasty rulers. This palace was constructed almost 200 years ago and till date, this palace holds a special attraction for tourists. The architecture of this palace is a mixture of French, Maratha and Mughal style forms and architecture.
Rajwada Palace Information
Just as Charminar is the hallmark of Hyderabad, Gateway of India and Taj Mahal Hotel Mumbai and India Gate Delhi, Rajwada represents Indore. Rajwada was the historic palace and residence of the Holkar rulers and was built in 1747 by the Holkar dynasty. The founder of it was done by Srimant Malhar Rao Holkar. This palace was used as his place of residence and he lived here till 1880.
This huge and scenic seven-storey building is situated in the middle of the city. This part of Indore is now called Old Indore (Juni Indore). Just in front of it is a beautiful garden, in whose middle the statue of Maharani Devi Ahilyabai Holkar is installed. This Rajwada is a living example of the pride of Holkar dynasty.
History of Rajwada Palace
In 1747, Malharrao Prathan laid the foundation of Rajwada. The foundation of this grand offering was laid using French style with the help of marble, wood, brick, clay, mortar on 6174 sqm of land.
He died in 1765. Shortly thereafter, this Rajprasad of Holkars was ready. The title was given to Ahilyabai, the daughter-in-law of Malhar Rao. He made his capital Maheshwar. In 1801, Sindhia's commander Sarjerao Ghatge attacked Indore. In this attack, Ghatge destroyed and destroyed a large part of Rajwada.
After this, during the reign of Malharrao II, his Prime Minister Tatya Jog once again started the construction work of Rajwada. After this, in 1834, Rajwada again became a victim of the fire. After this, time passed.
In 1984, during the Indira Gandhi assassination riots, some chaotic elements set fire to it. Rajwada, synonymous with the heart of Indore, has been a silent witness to the past beauty of the Holkar Empire.
Architecture Of Rajwada Palace
Rajwada Mahal is located in the heart of Indore city and the second one standing in the old part of the town. Rajwada palace exhibits a blend of Maratha, French and Mughal style forms. It is a seven-story building.
Rajwada 918 feet long and 232 feet wide The entrance of this building is 6.70 meters high, whose structure is like the palaces of Hindu style. The court hall of Holkaro called Ganesh Hall is built in the French style.
The entrance of this palace is very beautiful and magnificent. A great archway serves as the entrance to the palace. The palace entrance, made of wood and iron majestic structure, welcomes every tourist visiting here. The entire palace is built of wood and stone. Big windows, balconies and corridors are proof of Holkar rulers and their magnificence.
As one makes its way through the entrance, one is greeted with a courtyard featuring Maratha ornate Ganesh Hall, several balconies, windows and corridors with Maratha ornamentation, surrounded by heroic rooms. The lower three floors are made of stone and the upper four-storey is made of wood.
Recontruction of Rajwada Palace
The magnificent palace has been burnt three times but was recently renovated under the instruction of H. H. Ushadevi Holkar, the Maharani of Indore and that's how the palace's beauty and elegance got restored.
In 1984, the flames of which Rajwada had suffered the biggest loss so far, and now it has been given the shape of a garden. In 2006, the then Empress of Indore Ushadevi Holkar planned to renovate it and due to her efforts, it was rebuilt in 2007. It is the first historical building in India that has been reconstructed with the same material, the same style and the same method from which it was first built in its original form.
Address Of Rajwada Palace
Address – Rajwada, Indore, Madhya Pradesh 452002 OR M.G. Road, Chhatris, Main Square, Indore, Madhya Pradesh 452001, India
Entry Fees of Rajwada Palace
Entry fees of Rajawada is INR 10 for per person. Earlier it was free to see Rajwada from the inside, but now ASI charged INR 10 and for photography or video graphing, twenty rupees you have to charge separately.
Timing Of Rajawada Palace
Before going to any place, you should check the timing of that place. Rajwada Palace opens only 6 days in a week. It closed on Sunday.
Rajwada Palace is open from 11 AM to 9 PM from Monday to Saturday. The time required to visit this place is 1hrs.
How to reach Rajwada Palace
Rajwada Palace is located in the centre of the city. You can reach this place very easily via public and private vehicles. The public vehicles are cabs, rickshaw, electronic-rickshaw, city bus etc. Also, have an arrangement of two-four wheeler parking.